Impression Junior
---
For those of you who have never used a 'proper' word processor or wonder what DTP can do for you, Impression Junior is a good introduction. Although it was replaced by Impression Style in December 1993, Impression Junior had been the best-selling word processor/DTP package in the Acorn market until then.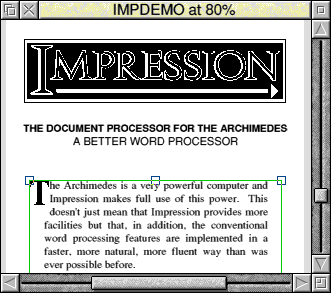 About the download
This download includes a full working version of Impression Junior, including a tutorial, a manual and some example documents (sorry, but we cannot offer technical support). Impression Junior runs on all Acorn machines with RISC OS 2 or greater, and 2Mb of memory or greater, except that it will not run in any of the new modes supported by RISC OS 3.5 or greater. To run Impression Style on a Risc PC or an A7000, you will have to change into a pre-Risc PC, numbered mode (say 31 or 28).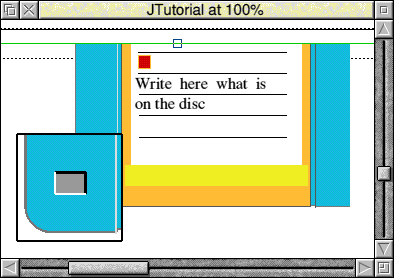 The software is stored in a Zip archive, which can be read using SparkPlug, or any of the Spark family. SparkPlug may be downloaded from David Pilling's Web site, among others. The download size is 966K.
When you have downloaded and unpacked Impression Junior, please read the Install and ReadME files in the archive. These give further instructions on installing and running the software.
About Impression Style
Our current Impression range includes Impression Style as our entry level word processor/ DTP package. Apart from the features offered by Junior it also benefits from the latest advances in design.
For example it includes:
a bundled thesaurus and dictionary with full explanations
on line help and full hyper text help
a new powerful but simple to use ruler and tab system
automatic section and paragraph bulleting, numbering and re-numbering
full support for 24-bit colour
an advanced style system
master pages
bundled TableMate utility for creating tables
rotated graphics
full compatability with RiscPC and StrongARM machines.
Style costs £79 + VAT (£92.83) but is available as a special price of £79 all inclusive to those of you who download this copy of Impression Junior from our Web site.
---
© Copyright Computer Concepts: page last updated 10 Jun 1997
For more information about this site, contact webmaster@cconcepts.co.uk.