ScanLight & GreyHawk prices slashed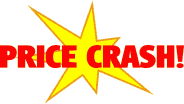 We've slashed the prices of our popular ScanLight and GreyHawk range of scanners and digitisers.
ScanLight 256 (Acorn and PC versions): £49 + VAT (£57.57 incl.)
GreyHawk: £39 + VAT (£45.82 incl.)
ScanLight Video 256: £59 + VAT (£69.32 incl.)
The ScanLight 256 hand scanner can produce quality scans up to 400dpi in 256 grey levels, ideal for adding impact to your documents, photos, signatures and more, and our price cut of 50% makes ScanLight 256 the best value scanner available in the Acorn market today.
The GreyHawk digitiser is the ideal tool for capturing images from real life scenes in 256 levels of grey. GreyHawk allows direct connection to a range of video sources, such as video recorders, camcorders or still video cameras such as the Canon Ion.
ScanLight Video 256 provides the ultimate image capture solution by combining the ScanLight 256 greyscale scanner and the GreyHawk fast greyscale video digitiser on a single expansion board, and with a price reduction of 55% it's amazing value for money.
---
© Copyright Computer Concepts: page last updated 3 Mar 1999
For more information about this site, contact webmaster@cconcepts.co.uk.