The Chroma-Genlocks allow you to overlay and record to video any computer graphics. This has many uses in creating, for example, effective presentations and documentaries, promotional videos, computer animation incorporating live video, professional quality titling to videos and many other applications. You can overlay colour graphics from the computer onto a colour video signal to create exactly the result you want. The combined output can be recorded to video or displayed on a video-compatible monitor.
Chroma-Genlock expansion cards are supplied as a package with SideShow and Overlay software. SideShow is the brand new titling facility written especially for the Chroma-Genlock by Computer Concepts. It acts as a flexible medium for taking text, draw objects and sprites in draw files and overlaying them, either as full screen or selectively onto video. It provides scaling, sequencing, looping, screen blanking and scrolling. Overlay meanwhile is the utility which controls the overlay and interlace status of the desktop.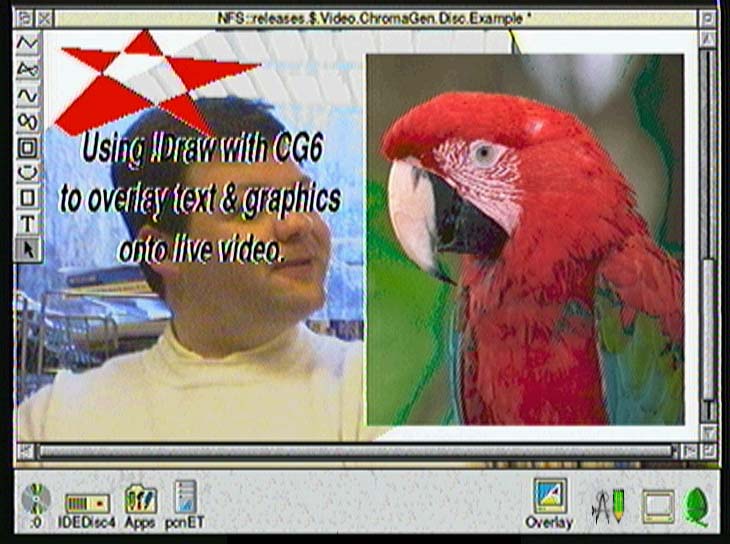 This screenshot has been digitised from a video source (hence the relatively low quality for a screenshot) and shows how graphics and live video can easily be overlaid in the Desktop.
When ordering, it is vital to indicate which computer the genlock card is to be installed in. Unfortunately, the CG3 Chroma-Genlock for A3000, A3010, A3020 and A4000 and the CG6 Chroma-Genlock for the Risc PC are no longer available. Please note that the Chroma-Genlock requires adaptors for use with the A5000.
Specification
Input signal: 1V pp CCIR/PAL composite video or negative sync.
Input impedance: 75 ohms
Output signal: 1V pp PAL composite video
Input from computer: RGB and composite sync.
Colour killer: colour encoding disenabled if external signal has no colour burst.
Power supply:

A3000: +5V
Archimedes: +12V
The package
A single-width expansion card for internal fitting in Archimedes 300/400/500, A5000 or Risc PC.
Overlay desktop video utility software
Video titling software
Manual containing installation instructions, technical information and tutorial with guidance on using the accompanying software.
CG4 Chroma-Genlock for 300/400/500 series or
CG5 for A5000 computers
Pricing
Price: £100.00 + VAT (£117.50 incl.)
---
© Copyright Computer Concepts: page last updated 10 Nov 1998
For more information about this site, contact webmaster@cconcepts.co.uk.