Formulix is an all-new RISC OS application designed to make creating formula or equations both quick and easy. It offers powerful editing features and OLE support, and exports a formula as a Draw file, thus ensuring compatibility with a broad range of desktop applications such as word processors and DTP programs.
Features
Fast and smooth operation
Unlimited undo/redo facility
A toolbox which gives fast access to all frequently used mathematical structures (such as brackets, matrices, integrals and sigmas) and user defined formula elements
A toolbar at the top of the page for instant access to the most commonly used tools
A smart-help display inside the toolbar
Drag & drop editing
Carefully designed formatting rules for top quality results
Support for two formula styles, 'text style' for embedded formulae and 'display style' for a formula in its own line
Powerful structures such as big operators, brackets, roots and many more. Each structure type offers many sub-types and several options to override the default formatting if the user so wishes
Matrices of any size with a powerful matrix editor for inserting/deleting/moving rows/columns and more
Many math-characters e.g. operators, comparisons etc, each category in its own dialogue box
A new freechar box allows for setting up a box with your preferred extra characters from any outline font
Four outline fonts from EFF: MathGreek, MathLogic1, MathScrip1 and MathBest font which together provide over seven hundred mathematical symbols
Function detection which automatically changes sin, cos, etc. to non italic style.
Macros
User definable choices and defaults which can be permanently stored on disk
Export as a Draw file, or save in its own native format
The ability to export a formula with a caption, a border and an equation number when saving
The ability to load Equasor files
Support for the Computer Concepts OLE standard, so that it integrates directly with programs like Impression Style and Impression Publisher.
These are the key features of Formulix. Teachers, students and anybody working in scientific publishing will appreciate the facilities this program offers. When combined with a word processor or DTP program, creating documents containing complex formulae could not be easier or quicker.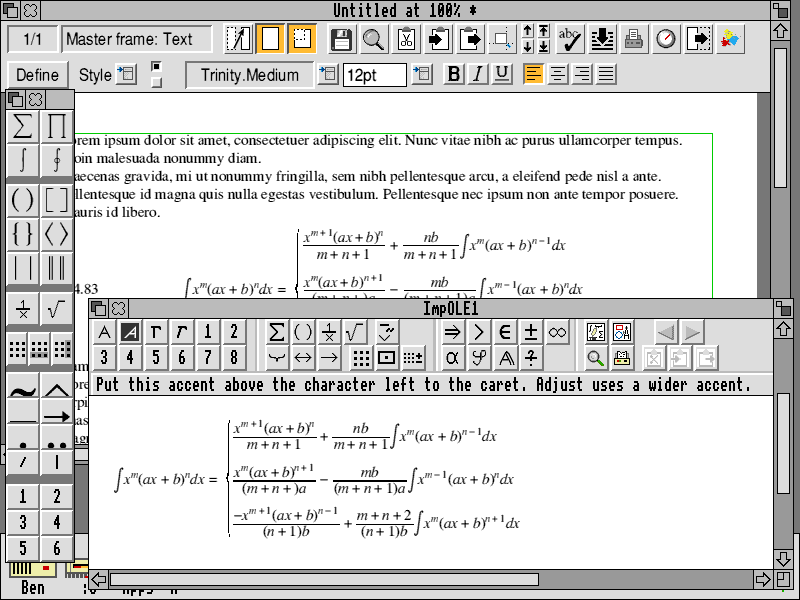 This shows a Formulix window (lower) containing an equation which is being edited, within an Impression document (window behind). The use of OLE greatly simplifies the process of embedding and editing complex equations in Impression.
New in version 2.10: Formulix can now perform horizontal and vertical kerning of individual elements within a formula. This allows extremely precise control over the appearance of equations. Also included in this version are some new bracket types which can look better for larger brackets, and more precise control over bracket size. Existing users of Formulix can upgrade to version 2.10 for £12.77 + VAT.
The Package
Formulix software on disc.
User guide.
EFF fonts
Price
£49 + VAT (£57.57 incl.)
£29 + VAT (£34.07 incl.) for existing owners of Equasor and Impression
£12.77 + VAT (£15.00 incl.) for existing Formulix owners to upgrade to version 2.10
System requirements
Works with all Acorn RISC computers with 2MBytes RAM.
---
© Copyright Computer Concepts: page last updated 19 May 1997
For more information about this site, contact webmaster@cconcepts.co.uk.