The ScanLight Plus software is provided with all the ScanLight family of scanners, is fully RISC OS compatible and offers a range of facilities beyond that available from any other scanner software on the Archimedes.
ScanLight is the ideal system for obtaining pictures for use in DTP programs, such as Impression. All the scanners are capable of capturing monochrome images and using the software to produce low-resolution grey-scale images of up to 64 grey-levels. The Scanlight 256 scanner is capable of directly capturing grey-scale images, enabling high resolution, photographic quality images to be obtained and incorporated into other applications.
ScanLight Plus features include:
Unique on-screen dithering which enables near photographic quality displays in 16 colour screen modes. This is automatically performed for all displayed images and does not require a separate processing stage.
Once the image is scanned, two views of the image can be shown, the original and the altered.
All image processing can be performed with no additional copies of the image being made in memory - important, since scanned images can be very large.
Any rectangular area of the image may be selected with options to crop or save just this area.
Either the original or altered image can be saved to file or directly to other applications.
A powerful toolbox controls the appearance of the altered image, offering a wide range of image manipulation facilities.
5 different sampling options can turn a monochrome scan into a true grey-level image. 8 by 8 sampling, for example, will produce a 64 grey-level image.
All image enhancement options can be performed on sprites from any source, not just scanned images.
Supports the new RISC OS 256 grey sprite format.
In addition to a simple brightness and contrast control, an editable grey-map curve gives more precise and accurate control over the image brightness, contrast and gamma correction. This can compensate for non-linearities in the scanned image or output device.
All the toolbox settings, including the grey-map, may be saved for future use.
Ultra-fast, non distorting image rotation by any angle in steps of one degree. Any number of successive rotations can be performed without picture degradation.
Image rotation allows scans to be performed upside down or sideways to best use the scanner dimensions, with no loss of image quality.
Either the original or altered image may be printed, any size, upright or sideways.
The image may be flipped vertically or horizontally.
A large range of image enhancement options such as blur and sharpen.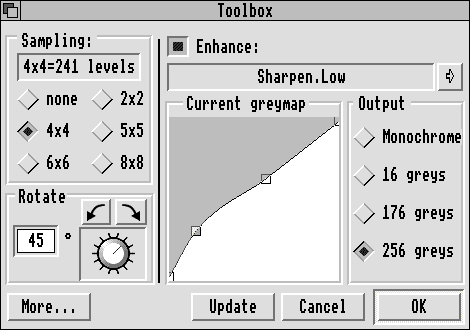 This screenshot illustrates the ScanLight Plus toolbox showing grey-map and other controls.
---
© Copyright Computer Concepts: page last updated 14 May 1996
For more information about this site, contact webmaster@cconcepts.co.uk.