The TurboDrivers are a new range of exceptionally fast RISC OS printer drivers optimised for the most popular inkjet printers.
The TurboDrivers are based on the LaserDirect software, but drive printers via the parallel printer port rather than a special direct interface. They offer dramatically faster print times than the traditional Acorn drivers, due to the use of the proprietary fast text outline font printing routines and new printer port driving software.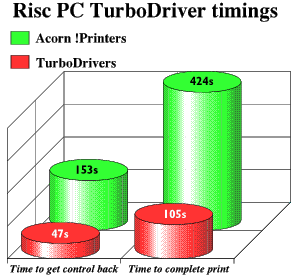 Not only do the drivers allow the printer to print as fast as it can, but they also return control to the user up to ten times sooner than traditional Acorn printer drivers. This means you can carry on using the computer while printing continues in the background. The software offers print spooling to disc so that very little RAM is used while it's printing in the background.
The TurboDrivers also allow pages to be printed to file. If these files are dropped onto the TurboDriver icon they can print from file at full speed, entirely in the background with practically no slow-down of the computer.
The RISC OS 3 TurboDrivers offer additional functionality and speed. For example, they can handle rotated text and show multiple printers on the icon bar. They also offer a unique degree of control over the printed output with fully programmable half tone screens. This gives a user the ability to alter the screen pattern, the half tone screen density and the screen angles - a feature normally reserved for PostScript printers.
The RISC OS 3 TurboDrivers can handle full 24-bit colour printing, even to monochrome printers and so colour prints can be obtained from any of the supported Canon BJ or Hewlett Packard DeskJet range of printers, simply by passing the paper through four times and swapping the ink cartridges.
TurboDrivers are now available for most Canon colour and mono inkjets printers (see below), HP Deskjets and Laserjets (and compatibles) and Epson Stylus mono and colour printers. All HP and Epson printers and all Canon printers except the older BJ-10 and BJ-200 require RISC OS 3.1 or later. RISC OS 2 versions for the BJ-10 and BJ-200 (not ex) are available for the same price.
Unfortunately TurboDrivers are not available for the Canon BJC-7000 as it uses a different command set to previous Canon printers; we will also not be supporting other Canon printers that use this modified command set.
The package
The TurboDriver software on disc, example print files and manual.
A moulded parallel printer cable.
Pricing
RRP: £49 + VAT (£57.57 incl.)
Upgrade to version 4.05 from 4.04: free
Upgrade to version 4.05 from earlier versions: £10 + VAT (£11.75 incl).
Hardware requirements
Works on all Acorn RISC computers, including the Risc PC. RISC OS 3.1 or later required. 2 MByte required for mono and 4MByte for colour. Printers 1.45 or later needed, and a hard disc recommended.
---
© Copyright Computer Concepts: page last updated 15 Jan 1998
For more information about this site, contact webmaster@cconcepts.co.uk.