MacFS is a utility that finally gives Archimedes users the ability to read and write Apple Mac discs. It comes in two versions that offer the ability to read and write to a variety of Mac formats.
It has been developed in response to a large number of requests from professional users of Impression, who need the easiest and quickest possible method of transferring files to the Mac to be typeset. However, it will also be useful to schools that have both machines on one site. As the name implies, MacFS is a full filing system and so presents a Mac disc just like any other filer system, such as ADFS.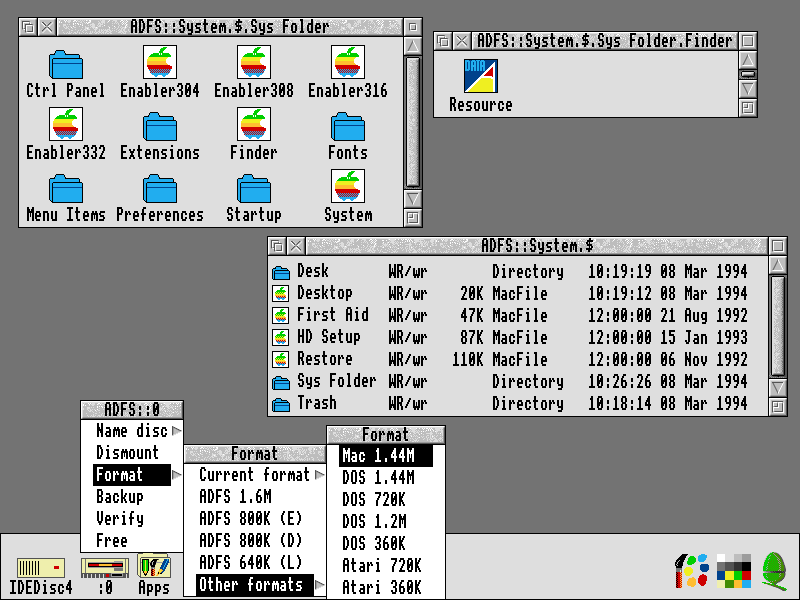 A screenshot showing MacFS in action.
Mac files are often made of two parts, called the data fork and the resource fork. In such a case the MacFS program shows the file as a MacFile - and double clicking on this MacFile opens another window showing the two data and resource parts. It is therefore very easy to access both parts.
There are several formats of Macintosh disc. The older 800K format cannot be read on Acorn machines, but MacFS will read, write and format the little-used 720K Mac format which can be read and written by all Macs. The Mac 1.4M format can be used by MacFS on Acorn machines with a high density disc drive (fitted as standard to the A5000 and later models).
Floppy discs
CD-ROMs
Hard discs
SyQuests
Hard discs
Optical discs
MacFS can read data on both 720K and 1.4Mb format Macintosh discs. It can also format floppy discs to the Mac format on Acorn machines. It also reads Mac hard discs including dismountable or removable media such as Syquests or optical discs, when connected to a suitable (Acorn compatible) SCSI interface. This makes it ideal for transferring large amounts of data between two machines (a common requirement in DTP work). It is designed to be simple and intuitive to use - simply plug the Mac hard disc into your SCSI adaptor and click on the disc icon. A filer window appears as normal, but in this case it displays the Mac files.
The Package
A disc with the MacFS software
A comprehensive user guide
Pricing
Price:
MacFS £99.00 + VAT (£116.32 incl.)
Site licences available
System requirements
Suitable for all Acorn RISC computers with RISC OS 3.1 or greater.
---
© Copyright Computer Concepts: page last updated 1 Nov 2001
For more information about this site, contact webmaster@cconcepts.co.uk.