Impression Publisher is the most powerful version of Impression available. It is built upon Impression Style and includes all the Impression Style features, but has some additional features suited to professional DTP work.
Impression Publisher provides enhancements over Impression Style in several areas:
Graphics
Impression has always had exceptional graphics handling capabilities. Impression Publisher takes them further by providing a new brightness and contrast dialogue. Each individual graphic can have its own independent settings. In fact this allows far more control over not just brightness and contrast, but also allows colour correction, or the balance of the individual colours to be altered. This works for all graphic types - Draw, ArtWorks and Sprite files - and is especially useful for 24-bit full colour pictures.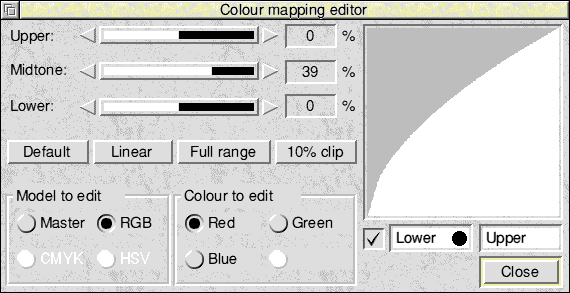 A screenshot of the colour control dialogue box.
Publisher also supports CMYK sprite files (and CMYK TIFF) and this dialogue would then allow control over the individual cyan, magenta, yellow and black brightness or balance.
This dialogue also allows greyscale images, such as greyscale scanned images, to be turned into duotone graphics of any desired colour ie rather than always going from black to white, you can set your picture to go from any colour to any other.
Typography
More control is provided over such things as underline, sub and superscript offsets and sizes. Publisher also provides manual and auto-kerning and tracking, either as an effect or part of a style definition. A new page grid can be used to ensure lines of text are aligned, even across frames.
Publisher also now provides interactive key short-cuts for increasing or decreasing the font size of the selected region. This is in addition to interactive kerning and tracking key short-cuts.
Printing
Publisher is ideally suited to the production of professional quality full colour documents. It includes a huge range of PostScript controlling options. Not only can you set the overall PostScript screen, type, angle, and density (lpi), but you can also independently set these for each graphic.
The colour picker has been extended to allows colour of all objects and styles to be defined in one of three colours models, including CMYK. It also offers overprint control and a special registration (4 colour) black colour. Impression Publisher can produce four colour separations - and includes an almost unique feature of allowing the individual C, M, Y or K (black) separations to be viewed on screen. Ideal for checking overprint.
Publisher has an advanced system of grey component replacement and CMYK gamma and colour balancing to ensure the best possible colour separation quality. Multiple device separation profiles are supported so that the best separation values can be chosen for your selected device when printing. Finally, Publisher can separate full colour 24-bit graphics including sprites, so allowing high quality, full colour photographs to be reproduced.
Irregular frames
Impression Publisher can support irregular shaped graphic frames as well as the traditional rectangular variety. This provides an easy way to repel text around an irregular graphic shape (see above example) and is ideal for complex or unusual DTP layouts.
The graphics tool has been enhanced so that you can rotate not only the frame content, but also the frame itself - just by dragging with the mouse. The irregular outline can be as complex as you like - adding and subtracting points into the outline is just like editing a polygon shape in a drawing program.
Frame outlines can now be set to be a simple line, of any required width and colour (and you can colour the traditional Draw type of frame border) and the repel distance can be set as desired around irregular frames as well as regular ones.
New Version for October 1995
The latest release of Publisher introduces smart quotes to Impression for the first time and includes some of the features first introduced in Impression Publisher Plus: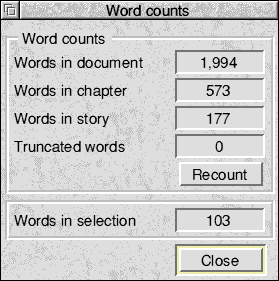 The ability to count words in any selected region of text.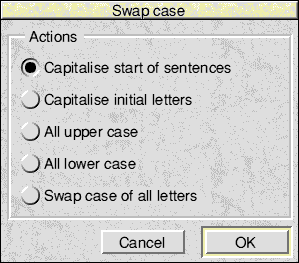 Improved case altering controls - you can now alter the case of text in selected regions.
The Package
7 discs, including clip-art and 24-bit Photo-CD image
A comprehensive 300 page manual
Quick reference card
WordWorks Thesaurus
Equasor, equation editor
TIFF loader
Text loaders, RTF etc.
TableMate, table editor
Pricing
Price £129 + VAT (£151.57 inc)
Network and site licences are available - please ask for details.
Upgrades
Upgrades from Impression II are offered at just £49.00 + VAT (£57.57 inc).
Owners of any of the following word processors may upgrade to Impression Publisher for £120 + VAT (£141.00 inc). Just return your master disc for any of the following programs: Wordz, EasiWriter, Advance, TechWriter, FirstWord Plus, Acorn DTP, StartWrite, Ovation, Pipedream.
System requirements
2 MBytes minimum. A hard disc is required for full WordWorks functionality. Works on all models of Acorn RISC Computer.
Reviews
...by far the best DTP package for RISC OS.
Impression Publisher is a superb program and includes a tremendous range of powerful professional features hitherto lacking on a RISC OS package.
Acorn User
Nothing else comes near it on Acorn machine
Acorn Computing
Without doubt, Impression Publisher is one of the most accomplished, diverse and down right useful programs running under RISC OS.
Archimedes World
---
© Copyright Computer Concepts: page last updated 5 Jun 1997
For more information about this site, contact webmaster@cconcepts.co.uk.