Impression Publisher Plusis a supplement to Impression Publisher designed for professional users, particularly those involved in colour reproduction. It now provides support for high end pre-press systems like OPI, DCS, and EPS files, and provides a new colour system.
Pre-Press
EPS (Encapsulated PostScript) file support.
OPI (Open Prepress Interface) and DCS support allowing low resolution screen previews to be used for layout work and for these to be automatically replaced by high resolution images when typeset.
Advanced Colour Control
Named colour support. Colours (of text, frames, borders etc) can be be given user names and defined in RGB, HSV, CMYK, and can include any number of spot colours and tints of colours. Named colours, like styles, are re-definable and retroactive.
The built-in colour separation system supports the usual four colour separations and any number of spot colour separations.
Tint colours allow variable percentage tints of other colours to be defined.
ArtWorks named colours can be imported. Publisher Plus can incorporate all the named colours in any ArtWorks file into the main Impression colour list. Such colours are fully integrated into the Impression named colour system, so that colour edits can also affect ArtWorks pictures.
A new improved, interactive, colour picker dialogue allows easy selection and definitions of colours.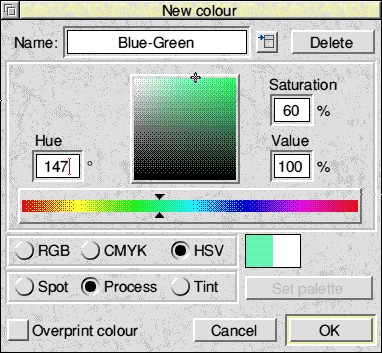 The new colour editor.
All of these controls are in addition to the already very flexible separation and colour support built into the standard Impression Publisher, such as the ability to adjust brightness and contrast, and the PostScript screen type, density and angle on an individual graphic basis, the ability to control overprint on a colour or plate basis, and the unique ability to preview colour separations on-screen either in greyscale or the plate colour (which now includes spot previews as well).
In addition to the above improved colour support, when printing, the precise XY page offset (i.e. the position of the page on the paper) can now be controlled.
The Package
8 discs
A comprehensive 300 page manual with supplement for Publisher Plus
Quick reference card
WordWorks Thesaurus
Equasor, equation editor
TIFF loader
Text loaders, RTF etc.
TableMate, table editor
Pricing
Price: Full Impression Publisher Plus package - £229 + VAT (£269.07 incl)
Publisher Plus as an upgrade for Publisher owners - £99 + VAT (£116.32 incl)
System requirements
Works with all Acorn RISC computers. 2MBytes of RAM required; 4MBytes RAM recommended.
---
© Copyright Computer Concepts: page last updated 14 May 1996
For more information about this site, contact webmaster@cconcepts.co.uk.